Fully rehearsed with new music and ready to play for you!
The music of Gumbo Groove is driven by our enthusiasm for the great songs of well-known bands and stars, as well as the fine songwriting skills of the group's leader, Frank Sprouse.  We make certain to choose music that both engages and entertains our audiences.  We perform classics by such artists as Joni Mitchell, John Hiatt, The Beatles, Brandi Carlile, John Prine, Bonnie Raitt, The Grateful Dead and The Rascals.  Frank's 'compositions result from years of studying many musical genres, including rock, jazz, country, fusion and the improvisational music of the Grateful Dead.  Combining his talent with fellow group members has resulted in music that is fresh, friendly and familiar.  Feel free to Contact us anytime.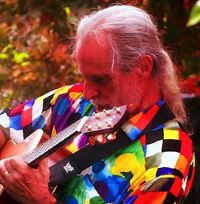 Frank Sprouse- lead and backup vocalist; flat top steel string acoustic guitar.  Frank performs exclusively on acoustic guitar, playing Gumbo Groove's music with a flatpicking, bluegrass influence.  Frank leads the arranging of the well-known songs the group chooses.  He also arranges much of the band's original music.  After playing electric guitar most of his life, Frank now loves playing his acoustic Alvarez-Yairi DY62C dreadnought guitar within the band's tight grooves. His influences include Dave Matthews, Monte Montgomery, Steve Kimock, and Jerry Garcia. His dexterous and rhythmic guitar playing keeps Gumbo Groove's music interesting and lively. 

Steve Mosher- backup vocalist; acoustic and electric bass.  Steve is comfortable playing both traditional and experimental basses, ranging from 4- to 8-strings. With a long history of band membership, including blues (Curtis Salgado), jazz (Bill Sabol, Richard Smith), bluegrass (The Rhythm Wranglers) and rock (Elfhouse), he provides a solid foundation for the music of Gumbo Groove.  His musical vocabulary is deep with influences range far and wide, from Charles Mingus to Jack Bruce to Stanley Clarke.

Kathy Mezger- lead and backup vocalist; mandolin; guitar.  Kathy's long music career has covered performing the vocal music of many genres, including country rock, bluegrass, Americana, folk, jazz, and classical music in community choirs such as the Eugene Concert Choir.  Her favorite performances have always been when singing jazz as well as performing the wide breadth of music of Joni Mitchell.  Kathy's high points in those two musical art forms have been her privilege of performing in Wolf Creek, a highly talented all woman folk trio, and working with many great regional jazz musicians.   She has performed in various jazz settings with bassists Andre St. James and Adam Novick, pianists Bill Sabol, Steve Larsen, and Larry Natwick, as well as with guitarists Richard Smith and Chris Sorenson.  Kathy has been guest soloist for the University of Oregon Jazz Lab Band, Music Educator conferences, The Oregon Repertory Theater's Midnight Jazz Series, and the Lane Regional Arts Council for the Performing Arts.  Kathy is now enjoying singing both lead and harmony vocals, as well as playing mandolin and guitar, in Gumbo Groove.